Andrew and I put this super easy sandbox together for Hannah to play with and eventually Ethan can play in it too. We knew she would love a sand box but didn't want a huge one. The smaller sand tables if they come with a lid are quite expensive.
The sandbox itself is an under-the-bed box from idea that comes with its own lid. The sand we picked up at Toy-R-Us. The toys we ones that we already had. Simple Simple. Hannah especially likes to scoop and dump the sand. We are planning to get some patio tables, the small ones like this one. Then we can put the sandbox up at waist level and she can stand in front of it.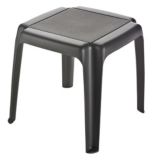 Scooping
Pouring
While Hannah was playing, we all enjoyed the sunshine even if it was a bit chilly.
Daddy was reading.
Ethan was playing with a car.
I was standing around watching everyone.